Penentuan Nilai Faktor Mesin Pesawat Sinar-X Radiografi Digital Merek Shimadzu di RSUD Dr. Kanujoso Djatiwibowo Balikpapan
Mamba'ul Fitriyana

Suhadi Muliyono

Prodi Fisika, FMIPA, Universitas Mulawarman

Kadek Subagiada

Prodi Fisika, FMIPA, Universitas Mulawarman
Abstract
The research on the determining machine factor (k) of Shimadzu digital radiograph X-ray machine have been done at the RSUD Dr. Kanujoso Djatiwibowo Balikpapan. Machine factor should be required in the calculation of radiation exposure which produced by the X-ray machine. Measurement data that have been used as independent variables were current-time, focus distance to the detector and tube voltage variations of 80 kV to 100 kV, while the dependent variable was the S value. Determination of the k value was conducted by weighted linear regression between V2 and  using the results of research by Seibert and Morin (2011) for the condition of calibrated X-ray machine. Thus, the reseach has  obtained the machine factor of the Shimadzu digital radiograph X-ray machine at the RSUD Dr. Kanujoso Djatiwibowo Balikpapan.
References
[1]Akhadi, M. 2000. Dasar-Dasar Proteksi Radiasi. Rineka Cipta. Jakarta.

[2]Ayad, M., Bakazi, A., dan Elharby, H. 2001. Dosimetry Measurements Of X-ray Machine Operating At Ordinary Radiology and Flouroscopic Examinations. Institute of Atomic Energy. Saudia Arabia.

[3]Bevington, Philip, dkk. 1969. Data Reduction and Error Analysis for the Physical Sciense. McGraw-Hill Education.
[4]Fahmi, A., Firdausi, S.,K., dan Budi, S., W. 2008. Pengaruh Faktor Eksposi Pada Pemeriksaan Abdomen Terhadap Kualitas Radiograf Dan Paparan Radiasi Menggunakan Computed Radiography. Laboratorium Fisika Atom dan Nuklir. Fisika FMIPA UNDIP.

[5]Lestari, J.,D. 2018. Kaitan Tegangan Tabung dan Indeks Paparan pada Pesawat Sinar-X Radiografi Digital Untuk Detektor Tanpa Grid dan dengan Grid. Fakultas Matematika dan Ilmu Pengetahuan Alam. Samarinda.

[6]Milvita, D., Yana, D., Nuraeni, N., dan Yuliati, H. 2009. Analisis Dosis Radiasi
yang Diterima Mata, Tiroid dan Calvaria pada Pasien yang Menjalani Pemeriksaan CT-Scan Bagian Kepala. Prosiding Seminar Nasional Keselamatan Kesehatan dan Lingkungan V. Depok.

[7]Podgosrak, E.,B. 2005. Radiation Physics for Medical Physicists. McGill Universitas Health Centre Canada. Amerika.

[8]Seibert, J. Anthony., Morin, L. Richard. 2011. The Standardized Exposure Index For Digital Radiography : An Opportunity For Optimization Of Radiation Dose To The Pediatric Population.Pediatric Radiology. USA. DOI 10. 1007/s00247010-1954-6.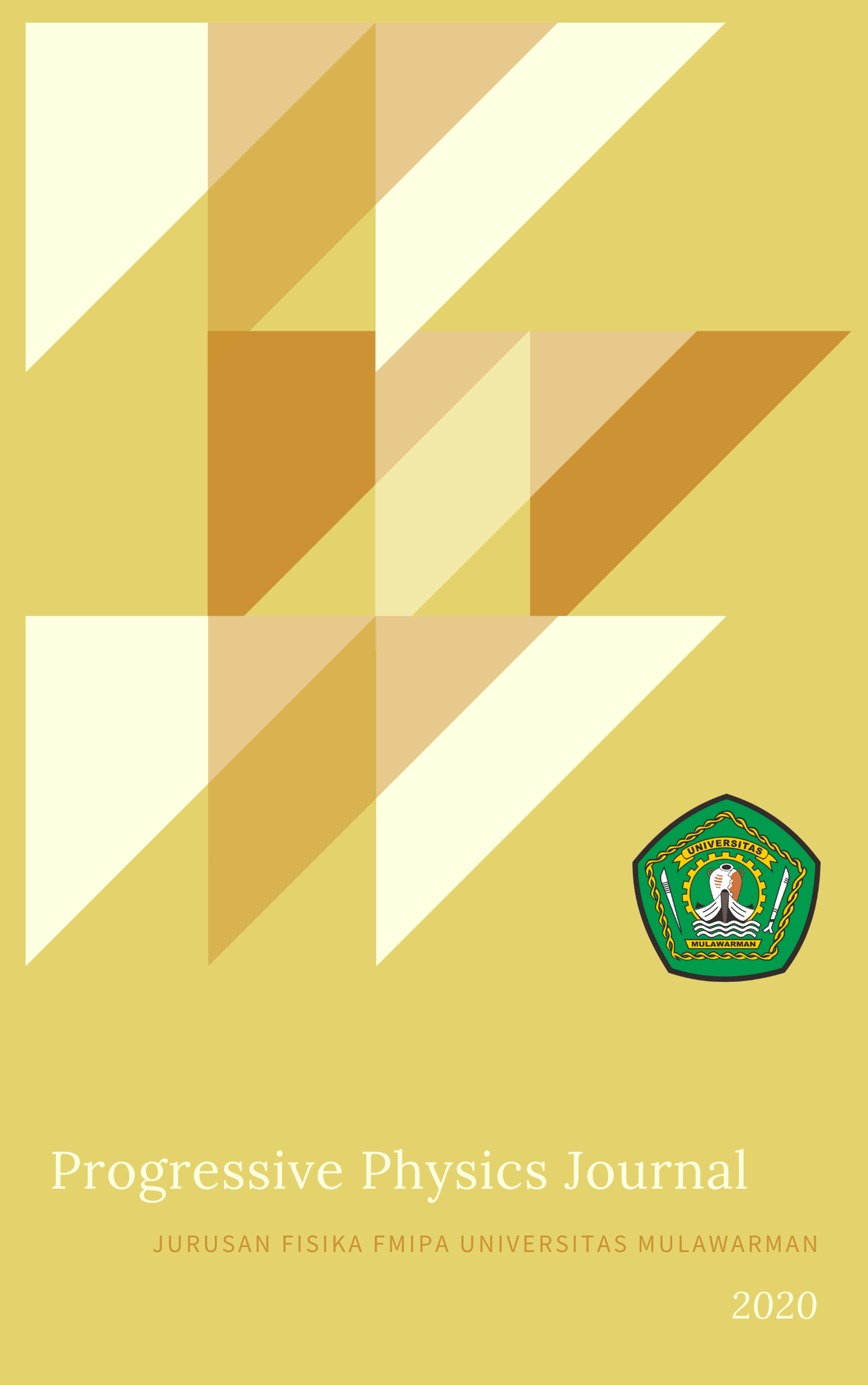 How to Cite
FITRIYANA, Mamba'ul; MULIYONO, Suhadi; SUBAGIADA, Kadek. Penentuan Nilai Faktor Mesin Pesawat Sinar-X Radiografi Digital Merek Shimadzu di RSUD Dr. Kanujoso Djatiwibowo Balikpapan.
Progressive Physics Journal
, [S.l.], v. 1, n. 1, p. 29-39, jan. 2020. ISSN 2722-7707. Available at: <
http://jurnal.fmipa.unmul.ac.id/index.php/ppj/article/view/563
>. Date accessed: 25 sep. 2021.