Penilaian Tingkat Risiko Postur Kerja Menggunakan Metode REBA dan Biomekanika Pada Aktivitas Mengangkat Beban
Aldi Rizki Jordan

Program Studi Fisika FMIPA UNIVERSITAS MULAWARMAN

Pratiwi Sri Wardani

Program Studi Fisika, Jurusan Fisika, FMIPA Universitas Mulawarman

Kadek Subagiada

Program Studi Fisika, Jurusan Fisika, FMIPA Universitas Mulawarman

Devina Rayzy Perwitasari Sutaji Putri

Program Studi Fisika, Jurusan Fisika, FMIPA Universitas Mulawarman

Adrianus Inu Natalisanto

Program Studi Fisika, Jurusan Fisika, FMIPA Universitas Mulawarman
Abstract
The activity of lifting weights has many risks that can lead to complaints and work accidents such as mistakes in lifting excessive loads, overly bent postures, and other complaints that result in uncomfortable working conditions. This research was conducted to determine the risk level of work posture using the REBA method and biomechanics in lifting weights with different lifting variables. The research were took documentation data, angle and distance measurements by using the Kinovea application, and the data analyzed by using the REBA Assessment Worksheet and biomechanical equations. Based on the results obtained, the activity of lifting burdens on workers from the aspect of the REBA method mostly has a high level of risk category and only 1 worker has a moderate level of risk category. Meanwhile, from the biomechanics aspect, most of them have a risk level in the careful category, 1 worker has a risk level in the safe category, and 1 worker who has lifted a load of 50 kg has a risk level in the dangerous category.
References
[1] S. R. T. Handari and M. S. Qolbi, "Faktor-Faktor Kejadian Kecelakaan Kerja pada Pekerja Ketinggian di PT. X Tahun 2019," J. Kedokt. dan Kesehat., vol. 17, no. 1, pp. 90–98, 2021, [Online]. Available: https://jurnal.umj.ac.id/index.php/JKK.
[2] E. G. Elphiana, Y. M. Diah, and K. M. Zen, "Pengaruh Keselamatan dan Kesehatan Kerja Terhadap Kinerja Karyawan PT. Pertamina EP ASSET 2 Prabumulih," J. Ilm. Manaj. Bisnis Dan Terap., vol. 14, no. 2, pp. 103–118, 2018, doi: 10.29259/jmbt.v14i2.5296.
[3] P. J. Septiana, E. Poncorini, and V. Widyaningsih, "Hubungan postur kerja dengan risiko terjadinya," Semin. Nas. Kesehat. Masy. UMS Audit. Muh. Djazman, pp. 137–146, 2019, [Online].Available:https://publikasiilmiah.ums.ac.id/bitstream/handle/11617/11861/16.pdf?sequence=1&isAllowed=y.
[4] Tarwaka, Ergonomi Industri : Dasar-Dasar Pengetahuan Ergonomi Dan Aplikasi Di Tempat Kerja Revisi Edisi : II. Surakarta: Harapan Offset, 2015.
[5] J. Hutabarat, Dasar-Dasar Pengetahuan Ergonomi. Malang: Media Nusa Creative, 2017.
[6] N. Hudaningsih, D. Rahman, I. A. Jumari, and E. Al., "Analisis Postur Kerja pada Saat Mengganti Oli Mobil dengan Menggunakan Metode Rapid Upper Limb Assessment (RULA) dan Rapid Entire Body Assessment (REBA) di Bengkel Barokah Mandiri," J. Ind. Teknol. SAMAWA, vol. 2, no. 1, pp. 6–10, 2021.
[7] A. Septianto and M. Wahyu, "Analisa Perbaikan Postur Kerja Pekerja Dalam Ilmu Ergonomi Menggunakan Metode Workplace Ergonomics Risk Assessment (WERA) dan Standard Nordic Questionnaire (SNQ)," Ergon. dan K3, vol. 6, no. 1, pp. 35–42, 2021, [Online]. Available: http://jurnalergonomik3.ti.itb.ac.id/index.php/ergonomik3.
[8] A. A. Pradiska, "Rekomendasi Perbaikan Postur Kerja Karyawan Untuk Meminimalisir Resiko Cidera Dengan Pendekatan Biomekanika (Studi Kasus di CV Dwi Jasa Logam, Ceper, Klatem, Jawa Tengah)," Universitas Pembangunan Nasional "Veteran", Yogyakarta, 2020.
[9] D. Prasetyawan, "Analisis Risiko Beban Kerja Berdasarkan Biomekanika dan Fisiologi (Studi kasus Angkat Beban Karung Beras di Gudang Bulog Kartasura )," Publ. Ilm., 2014.
[10] M. S. Setiawan, I. W. Kirana, A. D. Cahyani, and M. R. Suryoputro, "Penilaian Postur Pekerja Pengangkatan Galon Dengan Metode REBA dan Biomekanika," Semin. dan Konf. Nas. IDEC, no. ISSN: 2579-6429, pp. 1–8, 2019, [Online]. Available: https://idec.ft.uns.ac.id/wp-content/uploads/2019/05/ID136.pdf.
[11] M. C. Yuantari and R. M. Fitriani, "Hubungan Antara Teknik Mengangkat Beban Dengan Keluhan Nyeri Pinggang Pada Buruh Gendong di Pasar Buah Johar Semarang," J. Viskes, vol. 11, no. 1, pp. 26–36, 2012.
[12] T. Benynda, "Hubungan Cara Kerja Angkat Angkut dengan Keluhan Low Back Pain pada Porter di Pasar Tanah Abang Blok A Jakarta Pusat Tahun 2016," J. Kesehat. Masy., pp. 1–37, 2016.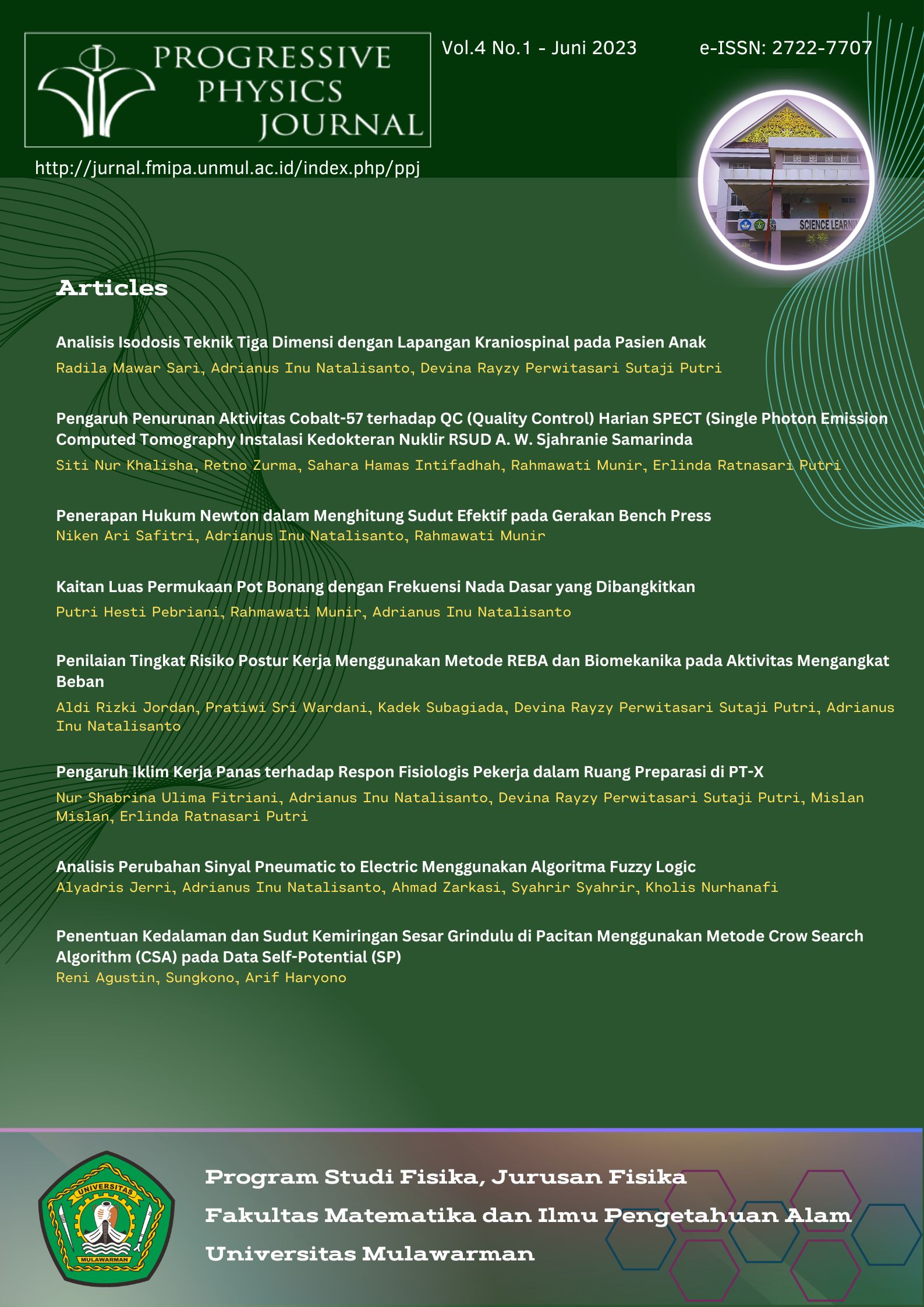 This work is licensed under a Creative Commons Attribution-NonCommercial 4.0 International License.