Penetapan Kadar Genistein Dalam Ekstrak Metanol BijiKedelai Glycine Max L. Merr. Varietas Grobogan MenggunakanMetode KLT Dan HPLC
Retno Aryani

Jurusan Biologi, Fakultas MIPA, Universitas Mulawarman

Pudji Astuti

Fakultas Kedokteran Hewan, Universitas Gadjah Mada

Soekarti Moeljopawiro

Fakultas Biologi, Universitas Gadjah Mada

Laurentius Hartanto Nugroho

Fakultas Biologi, Universitas Gadjah Mada
Abstract
Soybean (Glycine max L. Merr.) is one of the foodstuffs that are often
consumed most of Indonesian. Soy contains phytoestrogens, which
have chemical structures resemble the hormone estrogen in the body,
namely the isoflavones, especially genistein. Genistein is known not
only have various beneficial physiological effects but also act as an
endocrine disruptor is because estrogen can play a role as well as
antiestrogen activity that affects the metabolism of sex hormones and
related activities biologi. The objective of this study was to know the
quality of genistein in soy extracts Grobogan varieties that have been
peeled the husk with Thin Layer Chromatography (TLC) and the
quantity of soy extract genistein levels Grobogan varieties that have
been peeled the husk with a method of High Performance Liquid
Chromatography (HPLC). The method used for extraction of
isoflavones genistein is maceration. Soybean seed samples which have
been hulled begins with removal of non polar compounds by
extraction using n-hexane solvent extraction followed maceration
using 80% methanol. The methanol extract obtained fractionated with
a stationary phase of silica gel GF 254, the mobile phase toluene-ethyl
acetate-aseton- formic acid 20: 4: 2: 1 (v / v). To determine whether or
not a compound genistein compounds in the extract by using a
comparison standard genistein further Rf sample extract compared
with the price of a standard Rf. While the determination of genistein
compound quantitatively with HPLC method genistein standard wear
≥ 98% at a concentration of 2, 4, 6, 8, 10 ppm. The identification of
genistein using Thin Layer Chromatography (TLC), shows the stains
that have Rf of about 0.43. Results genistein content by HPLC showed
peaks of the chromatograms that have a retention time of about 2,050
minutes. HPLC analysis results in three replication showed levels of
genistein in soya bean varieties Grobogan was 1 g samples of soy
extracts that have been flayed husk there was an average of 0.6356 mg
genistein. In the soybean seed Grobogan varieties contains isoflavones
genistein. Levels of genistein in 1 g of sample soy extracts Grobogan
varieties that have been flayed epidermis was an average of 0.6356 mg
genistein.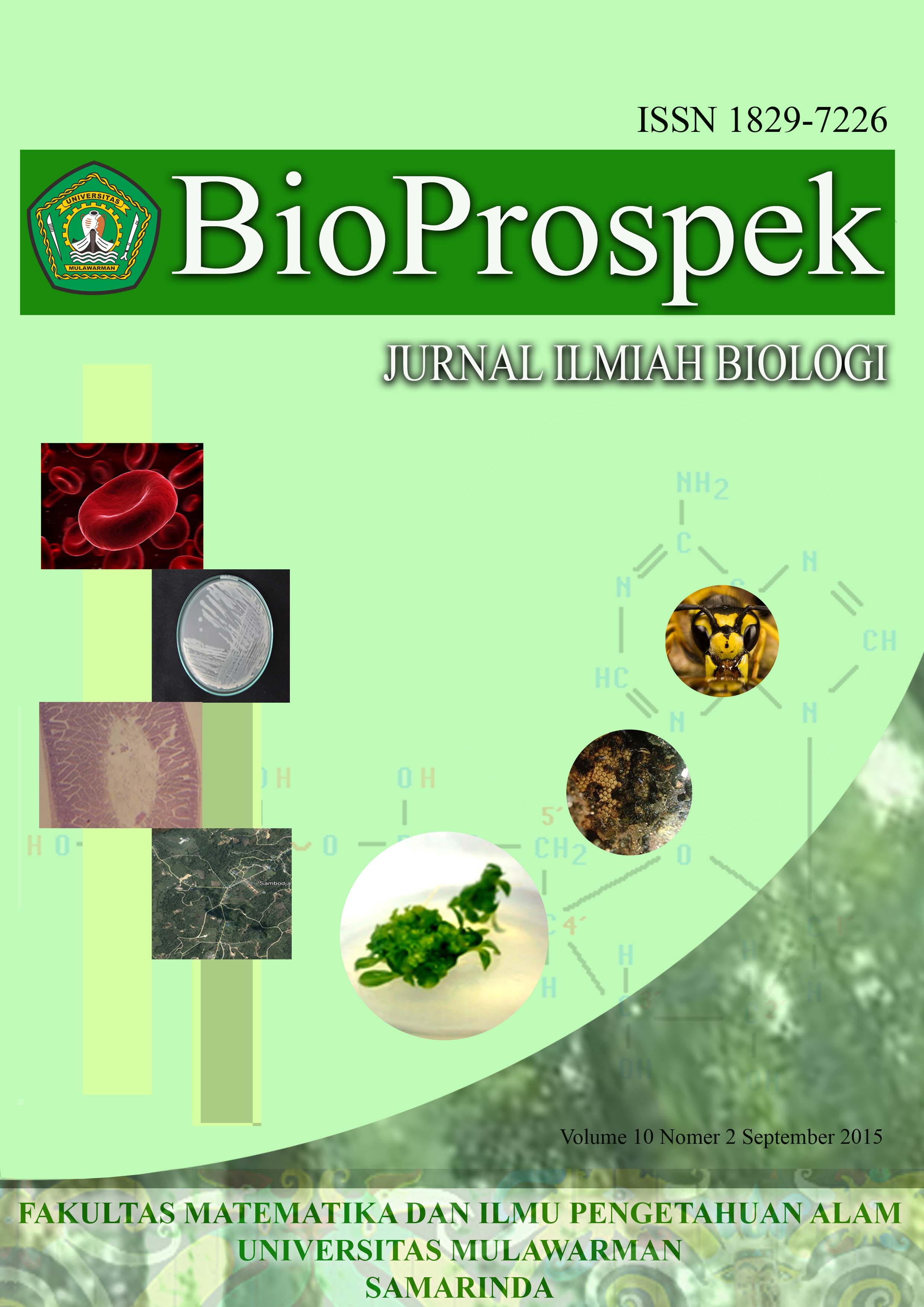 How to Cite
ARYANI, Retno et al. Penetapan Kadar Genistein Dalam Ekstrak Metanol BijiKedelai Glycine Max L. Merr. Varietas Grobogan MenggunakanMetode KLT Dan HPLC.
BIOPROSPEK: Jurnal Ilmiah Biologi
, [S.l.], v. 10, n. 2, p. 21-28, sep. 2015. ISSN 2615-5435. Available at: <
http://jurnal.fmipa.unmul.ac.id/index.php/bioprospek/article/view/142
>. Date accessed: 17 oct. 2021.